2020 Honda Fit LX
New 2020 Honda Fit LX | FWD | 1.5L | CVT

Honda Fit
Exterior Features
Body Side Molding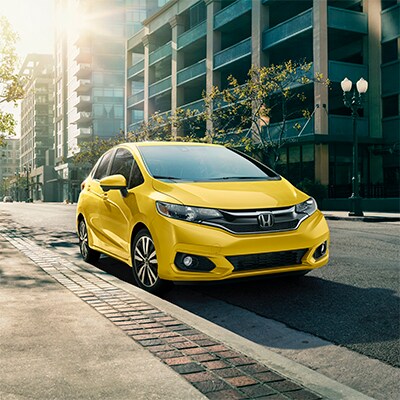 Form and Function
The sweeping curves and streamlined design of the 2020 Honda Fit are pleasing to the eye, but stylish looks are only part of the equation. The eye-catching body side molding is designed to help protect the 2020 Honda Fit from door dings. So, you get to enjoy the perks of driving a car that uses its striking design features to help protect itself.
LED Fog Lights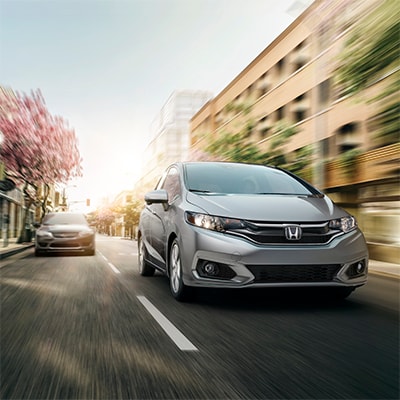 Improve Visibility
Driving in rain, snow, or dense fog can be a pain, but the available LED fog lights on the 2020 Honda Fit can help you maintain visibility. Even when the weather takes a foul turn, the 2020 Honda Fit is equipped to help you find your way and get you where you need to go safely.
Rear Spoiler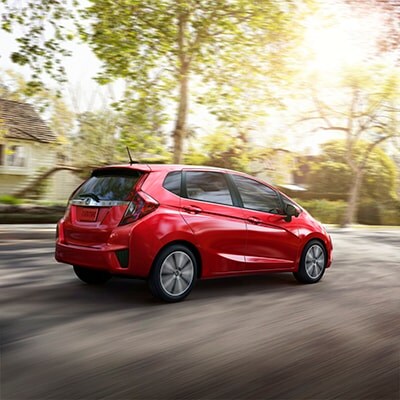 Sporty Personality for a More Fun Drive
The 2020 Honda Fit offers a rear spoiler and even some chrome trim to add a splash of fun to your daily drive. The sporty attitude of the 2020 Honda Fit fuels its fun-to-drive personality, and you're sure to connect with it when you get behind the wheel and go for a spin.

Honda Fit
Interior Features
2nd-Row Magic Seat®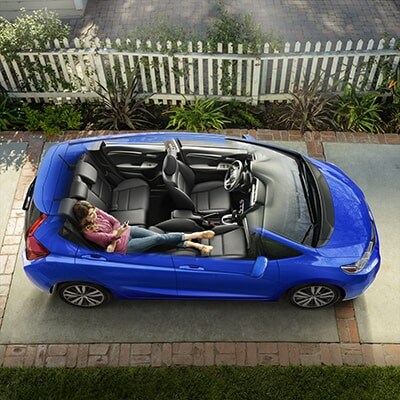 Leave Nothing Behind
The uniquely versatile interior of the 2020 Honda Fit enables you to make the best use of its space. The 2nd-Row Magic Seat® has four modes, including Utility, Long, Tall, and Refresh, and you can easily switch between them to suit your needs. Accommodating a wide range of items is simpler than ever!
Apple CarPlay and Android Auto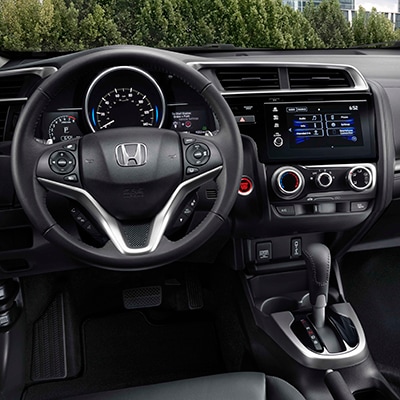 Seamless Smartphone Integration
With available Apple CarPlay and Android Auto, you can enjoy easy access to music, messages, calls, podcasts, and your other favorite smartphone features. By using only your voice or the touch of a button on a familiar, user-friendly interface, you can take advantage of your favorite apps while keeping your focus on the road.
Is Your Plan to Lease or Purchase a New Honda Fit? Browse Offers in Bennington at Bennington Honda
Have you been reviewing options for a new car near Pittsfield, MA? If you're trying to find a car with intriguing appeal, and one that has a functional interior, a new Honda Fit can be a pick for you. It could be appealing whether it's your first car or you want to find a vehicle that can pilot easily in narrow streets. The 5-door design of a Honda Fit not only is sporty, but the responsive performance can deliver a gratifying drive.
Do you want to lease a new Honda Fit near North Adams, MA? Search here to look for new Honda Fit lease offers! Leasing can help you find affordability, and you may like leasing if you want to find a solution that's more on the short-term side. If you're excited to start enjoying the versatility and utility that a Honda Fit offers, and you want to get set up with lease, take a glance at the lease offer options near Troy, NY, that are available whole looking at this page of new Honda Fit offers.
Does the durability have you wanting to drive the fun-to-operate and sporty Honda Fit? If you want to commit to a Honda Fit for a long length of time, then you may be in it for a long-term financing solution and thinking of purchasing a new Honda Fit. While browsing the new Honda Fit cars for sale near Rutland VT, at Bennington Honda, browse around here to see if you can find a Honda Fit finance offer that checks off the affordability element you want to see when buying your Honda car.
When you're ready to gear up and find a buying or leasing choice for a new Honda Fit, contact our finance staff with your purchasing and leasing questions, and learn more about how can you make use of an available offer on a new Honda.